Buckeye Quat 256 Gallon
THIS PRODUCT IS TEMPORARILY OUT OF STOCK. TO LOCATE THE BUCKEYE DISTRIBUTOR NEAREST YOU, PLEASE VISIT https://www.buckeyeinternational.com   THANK YOU FOR YOUR UNDERSTANDING. 
SDS
Quat 256 Disinfectant Conc. Gallon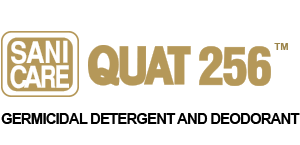 Buckeye Sanicare Quat 256 is a multi-purpose, germicidal detergent for use in hospital, health care and industrial settings at ½ oz. per gallon of water. Buckeye Sanicare Quat 256 requires no rinsing, and is pH neutral for use on floor finishes.
Reviews